Almost all young people want to see solutions to climate change. And some of the best places to witness this in action are at the colleges that they attend. If you're a young person who wants to go to a college that's doing all that it can to utilize alternative energy sources, then this is the right article for you. Below, we'll show you the top 50 US colleges that are taking advantage of the growing opportunities in renewable energy!
Alternative energy is still a young industry. There are many different ways that a college may be using it. And new solutions are being created every day. In fact, American colleges are at the forefront of creating these new energy solutions. Therefore, to qualify for this list, a college needs to demonstrate that it is not just using solar panels, hydropower or wind turbines. It also needs to show that it is working towards improving these technologies and creating new innovative solutions.
The advantage of going to a renewable energy college is significant. Not only is the college showing its students the shape of things to come, but it's showing the wider world that students who study there are eco-conscious and consider the impacts of the things that they commit to. In short, studying at an alternative energy friendly college gives the impression that the student makes well-considered and important decisions.
Any of the 50 colleges below is a fine choice for a student who wants their college to be alternative energy focused. The selections span all across the USA. So below should be something for everyone. But it's also possible that none of the options in this list is right for you. If that's the case, then you can still utilize this ranking. Each entry includes a detailed summary of what the college is doing with renewable energy to make it a leader. These summaries will allow you to compare those colleges with your own options, to see if they're doing anything that could match up.
Methodology
We've looked into articles that discuss how colleges are utilizing renewable energy to form the basis of our research. These sources are keen to discuss what it is that colleges can be implementing and are starting to implement to become more alternative energy friendly. Additionally, we've also looked into colleges that actually incorporate renewable energy into their education. Several sources have listed the best colleges for teaching clean energy.
Our full list of sources is as follows:
EPA, Green Power Partnership Top 30 College & University: https://www.epa.gov/greenpower/green-power-partnership-top-30-college-university
Environment America, The College Campus of the Future: Fueled by 100% Renewable Energy: https://environmentamerica.org/news/ame/college-campus-future-fueled-100-renewable-energy
Environment America, Renewable Energy 101. Ten Tools for Moving Your Campus to 100% Clean Energy: https://environmentamerica.org/page/ame/renewable-energy-101-ten-tools-moving-your-campus-100-clean-energy
Study Portals, Bachelor's Degrees in Sustainable Energy in the United States: https://www.bachelorsportal.com/study-options/269779200/sustainable-energy-united-states.html
Solar Power Authority, The 10 Best Colleges and Universities for Studying Renewable Energy: https://www.solarpowerauthority.com/the-10-best-colleges-and-universities-for-studying-renewable-energy/
Sierra Club, Cool Schools 2018 Full Ranking: https://www.sierraclub.org/sierra/cool-schools-2018/cool-schools-2018-full-ranking
Transport Evolved, Got an Electric Car? Going to University? Here Are The Most EV-Friendly Ones in the U.S.: https://transportevolved.com/2014/09/16/got-electric-car-going-university-ev-friendly-ones-u-s/
Our final ranking is sorted by the college's commitment to improving/maintaining its alternative energy consumption, its total amount of alternative power used, its percentage of renewable energy it uses, its evidence of working on innovative alternative energy practices and its aggregated ranking on the methodology sources.
Our results, from 50 to one, are below:
50. Texas Tech University
Lubbock, Texas
The alternative energy education at Texas Tech University has a very precise focus. It wants to ensure that renewable energy can be transferred into the world's aging power grids more seamlessly and effectively. Because of these efforts, Study Portals names the college one of the best places to study sustainability. Sierra Club on the other hand ranks the college at 254 th for most sustainable colleges in the US. Apart from power grid integration research, Texas Tech University also has two innovative heating and cooling plants which are steam turbine and natural gas powered.
49. Guilford College
Greensboro, North Carolina
The major emphasis of Guilford College's alternative energy efforts is on solar heating. This is like solar energy, except that the technology converts the sun's energy into systems for heating up water or creating AC systems. Guilford College now has 200 panels that produce over 9,000 gallons of heated water per day. This clean energy system heats the majority of the college's residential and dining areas. However, the college has some work to do with expanding its sustainability efforts in other areas. Sierra Club only ranks it at 189 th in its list of America's most sustainable colleges.
48. Allegheny College
Meadville, Pennsylvania
Historically, Allegheny College has been slow on the uptake of alternative energy, but this is rapidly changing. And it's all thanks to the efforts of the students. Environment America notes that when the college was looking to build a new residence hall, students took it upon themselves to research cost-effective renewable energy solutions. They convinced the college's leadership to install a geothermal heating and cooling system, which uses the Earth's heat to produce hot water and AC. The college has since installed similar systems in other new campus buildings.
47. Michigan State University
East Lansing, Michigan
While it currently ranks at 157 th on Sierra Club's top sustainability colleges list, there is strong evidence that Michigan State University's alternative power efforts are improving. Since 2017, it has been constructing new solar arrays in its campus parking lots, which will save $10 million in electricity costs over 25 years. These arrays will also be used by the College of Engineering in its technology research classes. For these efforts and more, EPA recently gave Michigan State University a 2018 Green Power Leadership Award.
46. San Diego State University
San Diego, California
The alternative energy efforts of San Diego State University are growing every year. While it currently ranks at 144 th on Sierra Club's list of the top alternative energy colleges, Study Portals does recommend its sustainability degree as one of the best and most affordable in America. San Diego State University's Center for Renewable Energy and Energy Efficiency was established in 1985 and has been successful in "enhancing the interaction and cooperative applied research opportunities with government agencies, research institutes, and regional industries." And by 2020, the student governance group of the college, Associated Students, aims to achieve a net zero energy output, meaning that all of its energy shall be offset with solar power generation.
45. University of Texas at Austin
Austin, Texas
Texas has a reputation as a major producer of oil. But colleges like the University of Texas at Austin show that the state is also expanding into alternative energy at an increasingly rapid pace. The college has its own power plant, which supplies the entirety of its campus's energy requirements. This power plant has allowed the college to become incredibly efficient with its energy usage. Despite doubling in building space, the college consumes the same level of fuel as it did in 1977. A large source of energy for the college's power plant is its solar thermal array. Thanks to this power plant, the University of Texas at Austin is the third-best college to study renewable energy according to Solar Power Authority . It also ranks at 147 th on Sierra Club's list of the most sustainable colleges.
44. State University of New York at New Paltz
New Paltz, New York
Treacherous weather conditions have forced SUNY-New Paltz to invest in innovative alternative energy solutions. When Hurricane Sandy hit the college in 2012, it lost all of its power. Therefore, after the recovery, it decided to create a microgrid system that takes solar energy and stores it in batteries in case of power outages. This system allows the State University of New York at New Paltz to use clean energy more reliably and to run smoothly when other buildings experience a loss of power. It currently is considered the 137 th most sustainable college in America on Sierra Club .
43. Western Michigan University
Kalamazoo, Michigan
Michigan is the birthplace of the automobile. And thanks to Western Michigan University, the state is becoming one of the best places in the world to drive an electric vehicle. The college itself has installed 22 electric car charging stations. 15 of these are powered by solar energy alone. These charging stations are available to anyone for free 24/7 and have enough power to fully charge 11 Chevrolet Volts every day. Western Michigan University has also won sustainability awards from Planet Forward, Transport Evolved, The Princeton Review, and many more sources.
42. Las Positas College
Livermore, California
Thanks to $15 million in grants from the California Energy Commission, Las Positas College has successfully improved its existing solar panel array to power more of its campus. Environment America states that it did this by installing a microgrid array that stores energy in batteries while its solar panels are drawing power from the sun. This allows the solar power to fuel the college's electricity throughout the night. However, Las Positas College is close to completing its 10-year climate action plan, meaning that soon it will unveil a whole new set of targets for the next decade, which is sure to expand on its alternative energy adoption.
41. Northwestern University
Evanston, Illinois
Over 100,000,000 kilowatts of Northwestern University's energy is produced from renewable sources. But EPA states that overall this contributes to 39% of the college's electrical consumption. Sierra Club considers it to be America's 118 th most sustainable college. Despite this ranking, the source gives the college a four out of four for innovation in sustainability. The college is certainly leading some groundbreaking projects that have a strong chance of seeing it expand its alternative energy usage in the future. For instance, the college runs the Solar Fuels Institute. This organization is aiming to create a liquid energy source from solar technology.
40. University of Arizona
Tucson, Arizona
The Institute for Energy Solutions at the University of Arizona has five sites dedicated to different aspects of alternative energy. The AzRISE/TEP Test Yard researches and examines new solar power solutions. Biosphere 2 is a center that has five synthetic ecosystems, which allow researchers to test systems that combat climate change. The Regional Algal Feedstock Testbed has a photovoltaic/algae bioreactor. The Solar Zone demonstrates solar technologies and generates 23 megawatts of power a day. And the WEST Center advances water energy-related technologies. The University of Arizona ranks at 81 st on Sierra Club's list of sustainable colleges. Yale Environment 360 also commends the college's alternative energy efforts.
39. Ball State University
Muncie, Indiana
In 2012, Ball State University managed to drastically reduce its carbon footprint when it replaced its coal-burning boilers with what Environment America names "one of the nation's largest geothermal energy systems. These systems use the warmth of the Earth by transporting water through underground pipes to heat and cool water. This allows the entire school to have hot water and AC without harming the planet. Ball State University ranks at 99 th on Sierra Club's top sustainable colleges in America. However, this ranking is set to rise, as the college is investing in a number of new eco-friendly power initiatives. One is a solar farm collaboration with Indianapolis Airport, which is the largest solar-powered project in Indianapolis's history.
38. Virginia Tech
Blacksburg, Virginia
Virginia Tech is involved in making its state much more green. For example, it has partnered with Apex Clean Energy, which is building Virginia's first wind energy farm, "to educate students and community members about the project, long-term benefits, and to meet the team behind the development." It's unsurprising, therefore, that Study Portals considers its Sustainable Biomaterials degree one of the best sustainable energy programs in America. Sierra Club considers it to be the 59 th most sustainable college in America.
37. Portland State University
Portland, Oregon
The Living Lab Initiative at Portland State University has gained praise from Yale Environment 360. This project connects student projects with sustainability programs. In 2018, this lab also conducted an extensive assessment of solar plus battery storage options that the college can utilize and researched wider renewable energy procurement options for the college. In addition to this, there are five solar panel arrays located across the college's campus. Sierra Club also names Portland State University as the 47 th most sustainable college in America.
36. Syracuse University
Syracuse, New York
Over 40,000,000 kilowatts of energy per year is now generated through wind power at Syracuse University. That puts SU at 28th for the most green energy used by any college in America, according to EPA. Study Portals names the college's Energy and Its Impacts degree as one of the best sustainability programs in America. In addition to purchasing wind power, Syracuse's Main Campus gets its heating and cooling from its own facilities, which include the Steam Station and Chilled Water Plant. These use natural gas for its fuel. The college's South Campus also uses 240 solar panels to heat its water.
35. Gustavus Adolphus College
St. Peter, Minnesota
There are currently two types of solar thermal panels installed at Gustavus Adolphus College. These are flat plate and evacuated tube systems. Environment America explains that they've been installed side by side so that they can be demonstrated in educational settings, maximizing their usage. These panels heat the college's pool and athletic facilities, as well as several campus academic buildings. Gustavus Adolphus College also has a 45 foot tall wind turbine that was installed by the National Science Foundation. The daily energy produced by this turbine can be tracked online.
34. Furman University
Greenville, South Carolina
Ranking at 45 th on Sierra Club's most sustainable colleges list is Furman University. Study Portals also considers its Sustainability Science degree one of the best of its kind in America. Furman University's sustainability center aims to integrate sustainability into everything the college does, meaning that alternative energy plays a large role in the college's future. In fact, the college plans to attain carbon neutrality by the year 2026. The college planned this goal in 2009 and had already been experimenting with alternative energy for years. For instance, it has had solar panels on campus since the late 1970s.
33. University of Massachusetts, Lowell
Lowell, Massachusetts
Sierra Club considers University of Massachusetts, Lowell to be the 22 nd most sustainable college in America. Solar Power Authority also names the college as having the 10 th best renewable energy based education system. In fact, the alternative energy work of the college stretches over four decades. But where University of Massachusetts, Lowell is really excelling is its work in bringing electricity to developing nations. For instance, it is bringing affordable solar energy to Haitian households, Native American reservations, Honduran schools, Peruvian communities and more.
32. Humboldt State University
Arcata, California
By 2020, Humboldt State University plans on reducing its greenhouse emissions to 1990 levels. It will then spend the next decade achieving carbon neutrality. Thanks to these targets, Sierra Club names the college as the 31 st most sustainable in the USA. And Study Portals highly recommends its environmental science degree. What also contributes to these rankings is its new Schatz Microgrid Project. This project is an incredibly modern energy grid that uses solar panels, Tesla batteries and backup generators to provide clean energy to the college. This microgrid won the 2018 Project of the Year Award at the DistribuTECH conference.
31. Oklahoma State University
Stillwater, Oklahoma
EPA states that currently 72% of Oklahoma State University's electricity is generated through wind power. The college also has one of the best renewable energy degrees in America, according to Study Portals. The college's wind power comes from a 26 turbine wind farm in nearby Blackwell, Oklahoma. The farm was built specifically to power the college and opened with a 20 year contract to the college in 2012. By 2016, Oklahoma State University stated that the wind farm had already contributed to a saving of $35 million in energy expenses.
30. Carleton College
Northfield, Minnesota
Carleton College only ranks at 161 st for America's most sustainable colleges on Sierra Club . But it has been a pioneer of alternative energy. It installed its first wind turbine in 2004, becoming "the first utility-grade wind turbine in the country to be owned by a college." This turbine is projected to last for 25 years and reduce its college's CO2 emissions by 15 million tons. It added a second turbine in 2011. These turbines supply 55% to 70% of Carleton College's electricity according to Environment America . In addition to these turbines, the college has a solar panel array and a solar thermal panel array.
29. University of Pennsylvania
Philadelphia, Pennsylvania
Over 200,000,000 kilowatts of green electricity are produced by University of Pennsylvania every year, according to EPA . This makes it the third highest consumer of green energy in America. But as University of Pennsylvania is a large organization, this doesn't cover all of the college's electrical needs. Sierra Club ranks it at 91 st among America's most sustainable colleges. However, it does have some huge alternative energy research achievements. For example, in 2013, a University of Pennsylvania and Drexel University team created a new form of solar cell construction that allows them to be "less expensive, easier to manufacture and more efficient at harvesting energy from the sun."
28. University of Delaware
Newark, Delaware
"One hundred percent of the campus' electricity is provided by wind power," at University of Delaware. This is the result of a three and a half year research and implementation process for its wind turbine, that was completed in 2010. In fact, the college's wind turbine is so good at producing electricity that it often produces more energy than the campus can take. When this happens, the power gets fed into the electric grid for the use of others. But what's really incredible is that this college-owned wind turbine is just the beginning of a renewable electricity revolution in America. The information that researchers are gathering from this turbine is contributing to "the establishment of the first offshore wind turbines in the Americas."
27. Oregon Institute of Technology
Klamath Falls, Oregon
The current mission of Oregon Institute of Technology is to be climate neutral by 2050. One of the primary ways that it will achieve this is through constructing large and small geothermal power plants. Its main campus has been heated by geothermal sources for decades, but these were recently expanded to provide electricity for this site as well. In addition to the geothermal sources, the college uses solar panels to power 35% of its campus. Due to this innovative infrastructure, Solar Power Authority considers Oregon Institute of Technology to be the best place to study renewable energy in the entire USA.
26. University of Missouri
Columbia, Missouri
The alternative energy adoption at University of Missouri is rapidly expanding. In 2014, 24% of the college's energy was derived from renewable sources. By 2019, this had expanded to 42%, according to EPA. Unlike many other colleges, the majority of University of Missouri's renewable energy comes from regional biomass fuels. The college's biomass boilers use over 127,000 tons of renewable fuel sources yearly to produce its energy. Sierra Club considers University of Missouri to be America's 43 rd most sustainable college.
25. University of California, Berkeley
Berkeley, California
2025 will be a major landmark for University of California, Berkeley. By that year, the college aims to have 100% of its electricity produced from clean sources. It also aims to replace 40% of its natural gas sources with biogas energy. In the present day, the college is doing many things to utilize alternative energy. For instance, it currently has solar power panels installed in six different places on campus. It is also the second best place in America to study renewable energy according to Solar Power Authority.
24. Butte College
Oroville, California
The leadership team at Butte College was not satisfied with only making their college 100% solar powered. So in 2010, it installed so many solar panels that the college was the first in America to become grid positive. This means that not only does the college generate enough energy through solar power to sustain the entire school, but it also generates more electricity than it uses. This allows it to expand in size without the risk of relying on fossil fuels once again.
23. University of Tennessee, Knoxville
Knoxville, Tennessee
The methodology lists are extremely polarized with University of Tennessee, Knoxville's alternative energy ranking. EPA places it at first place, noting that in terms of gross green power created, the college is at the top, producing 250,070,000 kilowatts in 2018. But Sierra Club measures this against the overall sustainability efforts of University of Tennessee, Knoxville, ranking it at 106 th . The college itself is focusing on getting every member of its community to be as sustainable with energy as possible. It even runs the Environmental Leadership Awards for students, faculty and staff members who help make the college a green institution.
22. University of Michigan
Ann Arbor, Michigan
Environment America notes that University of Michigan's research is making extensive progress in creating high capacity batteries that could revolutionize the use of electric cars. When considering this, it's unsurprising that the college is ranked at fourth on Solar Power Authority's top colleges for studying renewable energy. But the college's sustainability credentials extend beyond its subject-specific courses. The college employs sustainability experts in all of its departments. Lastly, the college also ranks on Sierra Club's top sustainable colleges list at 69 th . By 2025, University of Michigan aims to reduce its greenhouse gas emissions by 25%.
21. Ohio State University
Columbus, Ohio
What's commendable about Ohio State University is that it is expanding its alternative energy usage despite being an urban campus. Yale Environment 360 notes that the college has purchased 21% of its energy from a privately owned wind farm. EPA names the college the 10 th largest user of green power in America. Sierra Club places it at 54 th for most sustainable colleges in America. Ohio State University also recently created a climate change action plan for its home city of Columbus. A key part of this action plan is to promote renewable energy options to people in Ohio.
20. George Washington University
Washington, DC
The most innovative alternative energy project in George Washington University's history was the Charged Up Solar Design Competition. This invited students to create an original solar charging station design on campus. The design that won has been installed and allows students to charge their personal devices from the sun's rays on campus. The college also gets much of its electricity from an off-site solar panel farm. EPA states that George Washington University now gets 53% of its electricity from green power sources. Sierra Club names it America's 48 th most sustainable college.
19. Appalachian State University
Boone, North Carolina
The renewable energy facilities in use at Appalachian State University are some of the most diverse in North Carolina. The campus gains much of its electricity from 10 solar panel arrays. However, it also has six solar thermal heating arrays and owns the largest wind turbine in its home state. Thanks to these facilities, Sierra Club considers Appalachian State University to be the 23 rd most sustainable college in America. Study Portals also names its Sustainability Technology degree as a great program.
18. Massachusetts Institute of Technology
Boston, Massachusetts
Solar Power Authority names Massachusetts Institute of Technology the sixth best college in America to study renewable energy. Environment America backs up this claim, noting that the college is currently developing such game-changing technology as transparent solar panels, which will allow windows to generate electricity! Transport Evolved also notes that the college has the fifth most electric car charging stations in America at 21. MIT also has outreach programs at the core of its research and educational aims. For instance, students participate in activities such as volunteering with nonprofits to help provide solar power jobs to formerly incarcerated and at-risk youth.
17. University of California, Davis
Davis, California
UC- Davis has the most electric car charging stations in America, according to Transport Evolved. Additionally, EPA merges the college with the entire University of California System in its ranking, noting that it produces the fourth highest amount of green energy of any American college. The University of California, Davis itself is a strong contributor to this system total. It has a large solar power plant on its South Campus that sprawls over 62 acres. It is "the nation's largest 'behind-the-meter' solar installation on a university campus." In addition to this solar power plant, the college also has the Renewable Energy Anaerobic Digester, which can convert 50 tons of organic waste into energy per day. Many of the University of California, Davis's buildings and one of its parking lots also have solar panels installed. All this contributes to the college's goal of becoming carbon neutral by 2025.
16. Hampshire College
Amherst, Massachusetts
100% of Hampshire College's electricity is generated from on-campus solar panels. That means that the college is fully divested from fossil fuels. However, the college continues to expand its solar power projects even further. It recently partnered with four New England colleges to build a new solar power facility in Maine. This will ensure that the college is able to maintain its 100% renewable electrical energy usage for years to come. Yale Environment 360 commends Hampshire College's adoption of solar power. Sierra Club names it the 39 th most sustainable college in America.
15. Pennsylvania State University
University Park, Pennsylvania
In 2019, Pennsylvania State University boosted its alternative energy usage significantly. It entered into a 25-year agreement with Lightsource BP to receive energy from over 150,000 solar panels. This agreement came in addition to a range of alternative energy arrangements that the college had already committed to. For instance, the college had previously agreed to an on-site solar array on its University Park campus and to receive hydro-generated electricity for 10 years. It also has a smaller solar array that can charge electric vehicles and a solar-powered bus stop. Sierra Club ranks Pennsylvania State University as the 62 nd most sustainable US college, although this is likely to rise with the new solar power agreement. Study Portals names it as having one of the best sustainability degrees.
14. College of the Atlantic
Bar Harbor, Maine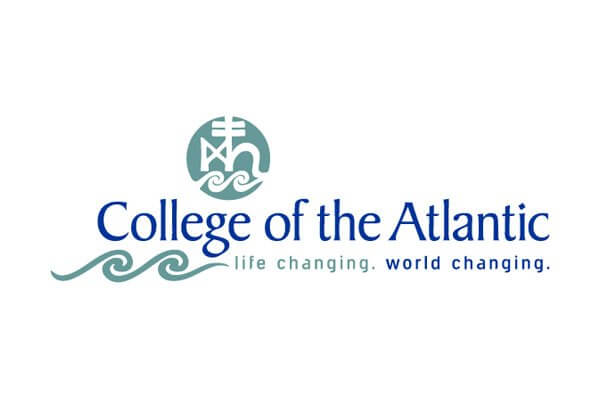 College of the Atlantic is a pioneer in alternative energy. That's because, as Yale Environment 360 states, it was the first college to achieve carbon neutrality, in 2007. Sierra Club names it the 35 th most sustainable American college. Now the college is extending its renewable energy focus to its nearby community. It has the Solar for Businesses and Farms program, which assists small businesses in switching to alternative energy sources. One success story is Rose Acre Massage, which installed an array of roof-mounted solar panels with the college's assistance. Within a few months, these panels had saved 2,000 pounds of carbon dioxide.
13. Oberlin College
Oberlin, Ohio
Oberlin College has been a catalyst in reducing its home city's greenhouse gas emissions. In fact, it has collaborated with its city government create the Oberlin Project, which aims to make Oberlin one of America's first climate positive cities by 2050. However, Oberlin College plans to advance its green energy usage faster than this, with its carbon neutrality goal set for the year 2025. Already, the majority of the college's and city's electricity comes from renewable sources. Oberlin College currently ranks at 29 th on Sierra Club's sustainable colleges list. Yale Environment 360 also commends the college's alternative energy efforts.
12. Santa Clara University
Santa Clara, California
Santa Clara University is leading in alternative energy use in multiple ways. Transport Evolved notes that it has the third most electric car charging stations of any college, at 26. Environment America notes that the college is building a microgrid system that stores clean energy and uses weather forecasts to ensure that it uses this energy in the most efficient ways. The college also has an extensive solar power system, with panels installed on many of its buildings. Overall, the college produces 1.5 million kilowatts of energy per year. And if that weren't enough, then the college also has a wind turbine that produces enough electricity to "power an average American household for about 49 days." Sierra Club names the college the 13 th most sustainable in America.
11. Middlebury College
Middlebury, Vermont
Over the next decade, Middlebury College will convert to 100% renewable energy sources. This initiative is called Energy2028. Already, the college has an on-campus biomass gasification plant that uses renewable natural gas to heat most of the campus and provide approximately 20% of the college's electricity. However, to reach 100% renewable energy, the college will invest in solar and hydropower. Middlebury College is currently Sierra Club's 10 th most sustainable college. But with the Energy2028 plan, it could rise right to top place in future years. Yale Environment 360 also names Middlebury an incredible college for alternative energy.
10. Arizona State University
Phoenix, Arizona
Many methodology sources rave about the alternative energy efforts of Arizona State University. Environment America notes that in 2016, it became the largest producer of solar energy of any college in America. EPA states that it is the college with the 17 th highest green energy output in the USA. The source also notes that it produces over 73,900,000 kilowatts of power through biogas and solar power. Yale Environment 360 says that the installation of solar panels has really enhanced the campus in unique ways. For instance, the installation of panels over the glass ceiling of the Memorial Union community center has allowed it to block the sun's rays in the summer months, stopping it from getting over to 100 degrees Fahrenheit in the building. The college is also Sierra Club's fifth-best sustainable college. Additionally, Arizona State University awards the Morrison Prize, which gives $10,000 every year to authors who write the most impactful sustainability-related legal academic article.
9. University of Massachusetts, Amherst
Amherst, Massachusetts
Yale Environment 360 notes that from 2007 to 2016, the entire University of Massachusetts system had reduced its greenhouse gas emissions by 17%. But University of Massachusetts, Amherst was ahead of its sister colleges, managing to reduce its emissions by 23%. Also in 2016, the college became the first major public university to divest its endowment from holdings in fossil fuels. The college ranks at seventh on Sierra Club's top sustainable colleges list. Environment America is also impressed with the college's Clean Energy Extension program, which helps cities and towns adopt clean energy faster. In fact, the college has worked with over "800 facilities around the northeast, helping them to identify and implement cost-effective measures that reduce their operating costs, environmental impacts and greenhouse gas emissions."
8. University of Connecticut
Storrs, Connecticut
In 2011, University of Connecticut made the decision to ramp up its alternative energy efforts significantly. At this time, the college proposed 12 renewable and sustainable energy projects, focusing on "solar thermal, solar photovoltaic, wind, fuel cells, geothermal and biofuel," technology. The college's current goal is to attain a carbon neutral campus by the year 2050. Thanks to its diverse range of clean energy projects, Sierra Club names University of Connecticut America's third most sustainable college. Yale Environment 360 names the college as one of the best public colleges for renewable energy.
7. Colorado State University
Fort Collins, Colorado
Yale Environment 360 notes that Colorado State University is making ample progress in its alternative energy efforts. Sierra Club names it the fourth most sustainable campus in America. In fact, the college is currently working at improving not just its own, but the world's alternative energy adoption. It has the Center for Revolutionary Solar Photoconversion that aims to provide the world with the next generation of solar power. It currently has 13 solar panel arrays on its campus. Thanks to its solar power adoption and innovation, Colorado State University believes that it will be powered by 100% renewable electricity by the year 2030.
6. Georgetown University
Washington, DC
Despite having a small, urban campus, Georgetown University has successfully managed to become one of the elite number of colleges that are entirely powered by clean energy. Environment America explains that it was able to achieve this through agreements with external clean energy suppliers. Therefore, the companies that Georgetown works with use multiple clean energy sources to supply the school. And even better is the fact that the college requests more power than needed for its facilities. This is so that it can provide power to needing communities in Washington, DC. In 2018, 133% of Georgetown's power was through clean energy sources, meaning that it had the sixth largest clean energy output of any US college, according to EPA . As well as providing excess energy to its community, the college is also creating a solar field that will generate revenues that will "support clean energy projects in low-income areas," of Washington DC.
5. Stanford University
Stanford, California
At 159,626,907 kilowatts of electricity a year, Stanford University produces the fifth highest amount of green energy of any American college, according to EPA . But it is not content with only applying renewable energy sources to itself. Stanford's faculty members are currently working on "policy tools and pathways for getting the U.S. and the world to 100 percent renewable energy," states Environment America. Due in large part to ambitious goals such as this, Stanford ranks at fifth place on Solar Power Authority's top colleges to study renewable energy list. Overall, Stanford University has decreased its greenhouse gas emissions by 68% since 2000.
4. University of California, Irvine
Irvine, California
The latest in University of California, Irvine's long list of alternative energy achievements came in 2018, when it converted its bus fleet to being entirely comprised of electric vehicles. This is America's first entirely battery powered bus fleet. Sierra Club considers University of California to be the joint first sustainability college in America, giving it a four out of four for innovation. EPA combines all of the University of California colleges into one and names it the fourth best college in America for energy efficiency. University of California, Irvine considers itself to be a "living laboratory" for sustainability. This means that the college's "students, faculty and staff work collaboratively to apply state-of-the-art solutions to the community."
3. Removed by editor
2. American University
Washington, DC
In 2010, American University made the pledge to become carbon neutral by 2020. But it surpassed even its own expectations and achieved this feat in 2018. Many things contributed to American University achieving this goal, including running 100% of its shuttle buses with biodiesel, installing seven solar panel arrays and using electricity generated from a 250,000 solar panel farm. Because of these achievements, Sierra Club names American University the 12 th most sustainable college in America. EPA also states that the college uses the 22 nd largest total amount of green energy in the USA.
1. University of New Hampshire
Durham, New Hampshire
Sierra Club names University of New Hampshire America's second most sustainable college, giving it a four out of four for innovation. When it comes to innovative energy ideas, it is ahead of all the other American colleges. Yale Environment 360 notes that the college has developed a system of processing methane from a nearby landfill to run its cogeneration plant. However, this is still only scratching the surface of the many ways that University of New Hampshire is creating new energy solutions. For instance, it also has the Center for Ocean Renewable Energy, which is developing hydrokinetic energy systems that could really revolutionize the world's energy generation in the future. Additionally, EPA notes that the college currently produces 65% of its energy from wind power.
Related Rankings