Enjoy These Beautfil College Campusues
Many of us have considered attending some of the more beautiful colleges in America, but what about the most beautiful college campuses in rural areas?
When a college campus is located within a rural area, it creates an atmosphere where life seems to revolve solely around the school and its students. Rural life can come with other wonderful perks, such as being in a setting where outdoor recreational activities are prominent and a part of life at school. Rural colleges also tend to offer up plenty of places where students can escape the books and active life of academia for some peace and solitude. Finally, many rural areas, especially rural colleges, are in close proximity to larger metropolitan areas that provide plenty more adventure for students within a short driving distance.
Related Resources:
So what's better than getting a great rural education? Getting a great education at the most beautiful colleges in rural areas. The methodology used to create the following list is explained at the end of the article.
20. Ohio University
Athens, OH
The College Green hosts many of the attributes that lands Ohio University among our Most Beautiful College Campuses in Rural Areas.
Points Awarded: 8
Hocking River flows by this 1,800-acre beautiful college campus with a scenic bicycle path along the banks. The College Green hosts impressive buildings and sites like the Wolfe Garden and the Federalist-style Manasseh Cutler Hall, a National Historic Landmark since 1966. It's coupled with the timber tower and crowning cupola, and the whole structure was built in 1816. Two other buildings from the 19th Century on the College Green are the Georgian-style McGuffey and Wilson Halls.
The Alumni Class Gateway is located at the northwest corner of the Green, at the corner of Court and Union Streets where Ohio University and the City of Athens meet, greeting and sending off those who pass through it with a message on each side.
19. Colby College
Waterville, ME
As one of the Most Beautiful College Campuses in Rural Areas, Colby College is located on top of Mayflower Hill.
Points Awarded: 8
The beautiful Colby College sits atop Mayflower Hill, overlooking downtown Waterville and the Kennebec River Valley. This 714-acre campus is home to Johnson Pond, over 1,800 trees, and a variety of shrubs and perennials. The Perkins Arboretum and Bird Sanctuary named over 128 acres a Wildlife Management Area.
A notable structure in this beautiful rural area is the iconic Miller Library. Plus, campus is just 20 minutes from the state capital.
18. Amherst College
Amherst, MA
As one of the Most Beautiful College Campuses in Rural Areas, Amherst College has a 98% student retention rate.
Points Awarded: 8
According to College Navigator, Amherst boasts a freshman retention rate of 98 percent; it seems students just cannot leave this campus of 1,000 acres and over 100 buildings. Amherst College hosts a Wildlife Sanctuary on 500 acres of the campus with a diverse collection of open fields (both actively maintained and unmanaged), wetlands, flood plain woods, river, upland woods, plantation pines, and ponds. This sanctuary, along with the Fort River, are important places for both recreation and research.
Architect Warren Slade Howland designed the first form of the magnificent Greek and Georgian Revival-style President's House. It was originally completed in 1835 on this beautiful rural college campus.
17. Evergreen State College
Olympia, WA
Evergreen State College is one of our Most Beautiful College Campuses in Rural Areas, owning over 1,000 acres of forest in the beautiful Pacific Northwest.
Points Awarded: 8
Evergreen State College owns over 1,000 acres of forest in the beautiful Pacific Northwest. There are a number of foliage-covered trails that students explore and use for agricultural and ecological research. They also utilize a salmon-safe Organic Farm on campus.
For more outdoor recreation, you can kick back somewhere on the 3,300 feet of unspoiled Evergreen Beach bordering the Puget Sound. If you feel the need to get off of campus, head out to one of the nearby state and national forests or parks.
16. Sewanee: The University of the South
Sewanee, TN
The lush 13,000-acres and Neo-Gothic architecture of Sewanee makes this school one of the Most Beautiful College Campuses in Rural Areas.
Points Awarded: 9
The 13,000-acre Domain, as Sewanee's campus is known, on the Cumberland Plateau overlooks the Tennessee Valley. Forests, lakefront bluffs, Lake Finney and a garden ravine that follows a stream through campus that blooms with daffodils, hyacinths and tulips in the spring help make up the University of the South's land.
On that land, you will be pleased to gaze upon lovely Neo-Gothic architecture and amazing structures like the All Saint's Chapel, whose architect drew inspiration from the University Church at Oxford and Notre Dame in Paris. The building boasts a tower, a rose window and arched ceilings.
15. Bard College
Annandale-on-Hudson, NY
This lush Italian garden coupled with picturesque architecture helped make Bard College on of our Most Beautiful College Campuses in Rural Areas.
Points Awarded: 9
Bard College consists of 540 acres of fields and forest land with the Catskill Mountains visible in the distance and both old and new architecture along the Hudson River and Sawkill Creek.
Notable campus buildings include the Richard B. Fisher Center for the Performing Arts with a metal-plate roof by Frank Gehry, where Bard's thriving art scene is showcased. Other campus architecture goes back to the 19th century as seen with the Blithewood Mansion and its manicured Italian garden. Then there are also the classic Collegiate Gothic-style buildings and the Tudor Revival-style Ward Manor by Francis Laurens Vinton Hoppin, which presently hosts a café and a dorm.
14. Hamilton College
Clinton, NY
Hamilton's beautiful rural area college campus sits on a hilltop overlooking the New England-style village of Clinton, N.Y.
Points Awarded: 9
Hamilton College's 1,350-acre campus sits on a hilltop overlooking the New England-style village of Clinton, N.Y. The College Chapel that Philip Hooker and John Lothrop designed in 1827 is on the National Register of Historic Places, as well as the Federal-style Elihu Root House. The houses' namesake is an alumnus, Nobel Peace Prize winner, and was the owner of the equally-beautiful Root Glen, which blooms with flowers, shrubs, and 65 kinds of trees.
This college has a 96 percent student retention rate, which I assume is partly because of its beauty. The campus is also in close proximity to the Adirondack Park.
13. Sweet Briar College
Sweet Briar, VA
The lush grounds at the foothills of the Blue Ridge Mountains of Sweet Briar make it one of the Most Beautiful College Campuses in Rural Areas.
Points Awarded: 10
Out of the 30 buildings on Sweet Briar College's 3,250-acre campus, 21 are listed on the Virginia Landmarks Register and the National Register of Historic Places as a National Historic District. Among the number of the buildings Ralph Adams Cram designed, the Mary K. Benedict Hall, originally completed in, 1906 features Beaux-Arts elements.
This school consists of lush grounds at the foothills of the Blue Ridge Mountains, as well as sxi nature sanctuaries, two lakes and a 130-acre equestrian center.
12. Wellesley College
Wellesley, MA
Wellesley College is one of the Most Beautiful College Campuses in Rural Areas with "its peculiar kind of intricate beauty."
Points Awarded: 10
Wellesley College's 500-acre campus is home to winding pathways through open meadows, groves of conifers and hardwoods surrounding Lake Waban. Here, you will also find a whopping 16 interconnected Margaret C. Ferguson Greenhouses, which hosts the most diverse collection of plants under glass in the greater Boston area. Even more, the Wellesley College Botanic Gardens (WCBG) include thousands of plants representing over 1,500 different taxa from more than 150 different plant families, a remarkably diverse collection for a college or university.
According to the college's website, landscape architect Frederick Law Olmsted, Jr. described Wellesley's landscape in 1902 as "not merely beautiful, but with a marked individual character not represented so far as I know on the ground of any other college in the country." Glacial topography, he believed, gave the campus "its peculiar kind of intricate beauty."
11. Elon University
Elon, NC
Elon, one of the Most Beautiful College Campuses in Rural Areas, is designated as a botanic garden.
Points Awarded: 11
Elon University's 636-acre campus is designated as a botanic garden, which includes the 56-acre Elon University Forest, a land preserve and natural area for scientific research.
Johnston Hall, home to the school's alumni offices, is on the National Register of Historic Places. Another highlight of this beautiful rural college is the Alamance Building and the Fonville Fountain that decorates the building's front yard.
10. St. Olaf College
Northfield, MN
St. Olaf is one of several Most Beautiful College Campuses in Rural Areas, with buildings on the National Register of Historic Places.
Points Awarded: 11
St. Olaf College is a private liberal arts college that boasts two buildings on the National Register of Historic Places: Charles F. Haglin and F.B. Long's 1877 Gothic-style Old Main, which was the first structure on college grounds, and Steensland Hall with its Greek Revival columns, porch, and dome.
This 920-acre campus is beautiful and ecofriendly. About 325 acres of the campus are restored wetlands, woodlands, and native tallgrass prairie owned and maintained by the school, and students use the gorgeous maple trees around to make some maple syrup. The LEED Platinum-certified Regents Hall has a plant-filled greenhouse overlooking the two structures mentioned above, and the campus utilizes its own wind turbine to supply over one-third of the school's electricity.
9. The College of William & Mary
Williamsburg, VA
Points Awarded: 11
The College of William & Mary is actually a small university and the first college to become a university, at that. It is also the second-oldest college in the U.S. with the founding year of 1693. Within this 1,200-acre university resides British architect Christopher Wren's brick Wren Building that was completed in 1699 and is today's oldest academic building to have been used uninterruptedly in the U.S.
The beautiful Sunken Garden stretches across the center of the school's Old Campus from the Wren to the Crim Dell Pond, and while it was designed by Virginia-born architect Charles M. Robinson in the early 1920s, it was not completed until 1936 because of its great cost. The Crim Dell Pond's notable feature is its wooden bridge and green area. Last but not least, this rural college is set next to the Matoaka Lake with a Matoaka Lake Amphitheater on the water's shore.
8. College of the Atlantic
Bar Harbor, ME
The College of the Atlantic is one of the Most Beautiful College Campuses in Rural Areas, with the Atlantic Ocean as its front yard.
Points Awarded: 12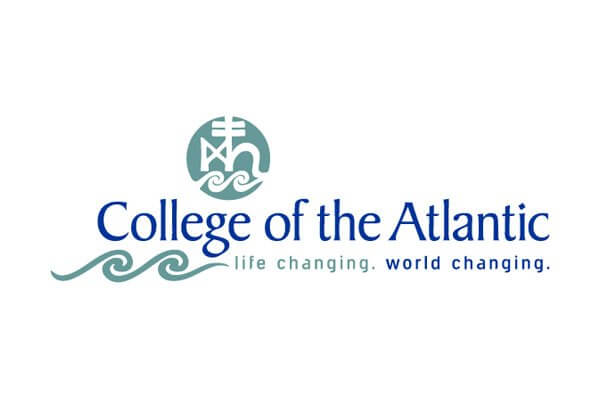 The Atlantic Ocean is the front yard of the College of the Atlantic's 37-acre campus. Garden areas, such as the Beatrix Farrand Garden and the community organic garden are in abundance around Maine's Mount Desert Island. The school owns both the Beech Hill Farm and Peggy Rockefeller Farms on the Island, and the Arboretum of Eden spans over the whole campus.
To keep on with the green theme, the campus features the Amos Eno Greenhouse, which holds a variety of plant specimens, with large collections of xeric plants (low-moisture plants like cacti and succulents) and tropical plants (such as bromeliads and orchids). If that wasn't enough, the whole campus is surrounded by Acadia National Park.
7. University of Mississippi
Oxford, MS
Points Awarded: 12
The landmark of the University of Mississippi's 2,000-acre campus is the striking Greek Revival-style Lyceum which was originally completed in 1848 based on the designs of British-born architect William Nichols, Sr. and is listed on the National Register of Historic Places. Ole Miss is also home to the oldest college bell in America in the Peddle Bell Tower.
As for campus greenery, The Grove is a haven for students and nationally-known tailgating venue with 10 acres of trees, picnic tables, and a stage; and the Bailey Woods Trail takes walkers from the University Museum, through wooded paths, to author William Faulkner's historic former home. The campus also features the Silver Pond and Phi Mu Fountain.
6. Cornell University
Ithaca, NY
William Henry Miller's 173-foot McGraw Tower and adjacent Uris Library helped score Cornell's spot among our Most Beautiful College Campuses in Rural Areas.
Points Awarded: 14
Cornell University's 4,800-acre campus is host to a few historic structures like local architect William Henry Miller's 173-foot McGraw Tower and adjacent Uris Library. The clock, with its 14-foot pendulum has changing faces, depending on the holiday and season. Other significant structures are the I.M. Pei-designed Johnson Museum of Art and Bailey Hall, a Greek Revival-style structure that was built in 1912 according to a blueprint by Cornell alumnus Edward Green. It is also on the National Register of Historic Places, as is Morrill Hall.
N plentiful with the Cascadilla Gorge with waterfalls that drop more than 400 feet from Cornell's campus to downtown Ithaca, a 100-acre arboretum, the Newman Overlook for a sweeping panoramic view and over 150 waterfalls within 10 square miles of Ithaca.
5. Dartmouth College
Hanover, NH
Dartmouth, "what a college is supposed to look like," is one of our Most Beautiful College Campuses in Rural Areas.
Points Awarded: 14
U.S. President Dwight D. Eisenhower is said to have remarked of Dartmouth's campus , "This is what a college is supposed to look like." Over its 269 acres sit lovely structures like the Rollins Chapel, which was conceived by Boston architect John L. Faxon and completed in 1885. The Baker Bell Tower is also a charming sight that satisfies the ears as well as the eyes by playing the "Alma Mater" at 6 p.m. each day.
The Dartmouth Green is a great grass area to escape — or even bring the books — on a nice day. Students can also get away to the part of the Appalachian Trail that runs through campus, the Connecticut River, the Organic Farm, and even the Dartmouth Skiway, depending on the weather.
4. University of Virginia
Charlottesville, VA
Thomas Jefferson founded UVA, one of our top Most Beautiful College Campuses in Rural Areas.
Points Awarded: 14
In 1976 the University of Virginia's campus as a whole was named "the proudest achievement of American architecture in the past 200 years" by the American Institute of Architects. The style of this rural college's buildings is called Jeffersonian, in homage to the college's founder, Thomas Jefferson. Jefferson chose the school's 1819 founding as one of the only three of his many accomplishments noted on his gravestone.
With stunning buildings like Neoclassical domed Rotunda, which is modeled after Pantehon, that's not a big surprise. UVA is also the only university to be named UNESCO World Heritage Site, which refers specifically to the Central Grounds or Academical Village.
3. Mount Holyoke College
South Hadley, MA
Within the heart of Pioneer Valley, Mount Holyoke is one of our top two Most Beautiful College Campuses in Rural Areas.
Points Awarded: 16
Mount Holyoke College's 2,000-acre campus is located within the heart of Pioneer Valley. Here, Mary Lyon Hall, along with the Talcott Greenhouse, is designated a botanical garden and is home to an array of tropical and warm-weather plant life. This campus also boasts an outdoor amphitheater, two lakes, waterfalls, woodland riding trails, and several examples of beautiful Collegiate Gothic architecture, like the Abbey Chapel, Clock Tower, and black iron Fidelia Nash Field Gates.
Originally, this school was designed as an 800-acre site and developed over the course of 26 years by landscape architects Olmsted and Sons. Today, Mount Holyoke is not only our second-most beautiful rural college campus, but the school was ranked among the "World's Most Beautiful Universities" by the Huffington Post.
2. Kenyon College
Gambier, OH
Kenyon College is the No. 3 college among our Most Beautiful College Campuses in Rural Areas.
Points Awarded: 16
The 10-foot-wide Middle Path spans the length of this 1,000-acre college and continues on through the town of Gambier, which sits below Kenyon College's hilltop location. The 14-mile Kokosing Gap Trail and the Kokosing River run along this beautiful campus and its 480-acre nature preserve, which includes woodland, prairie, and wetland habitats, as well as gardens.
The castle-like Victorian Gothic Ascension Hall and the Greek Revival Rosse Hall are pleasant architectural highlights on this campus, but the crowd favorite seems to be the Old Kenyon. This building, with its multicolored steeple, is the second of its name after the first perished in a fire, and it's said to be the earliest Collegiate Gothic-style building constructed in the U.S., according to Best College Reviews. The Great Hall within Pierce Hall, on the other hand, dons wood paneling, lofty carved rafters and stained-glass windows depicting scenes from literary classics. It isn't hard to trust the College when they say, "Timeless beauty endures here."
1. Berry College
Mount Berry, GA
Berry College scored the No. 1 spot out of all of our Most Beautiful College Campuses in Rural Areas, for good reason.
Points Awarded: 17
According to the College , "Berry has the world's largest contiguous college campus, spanning more than 27,000 acres of woodlands, meadows and streams," and most of the campus is a nature preserve with large pastures. This beautiful campus and the Mountain Campus are dotted with pools, fountains and two lakes; one of which is appropriately-named Swan Lake for the beautiful birds that grace its waters. For those looking to truly enjoy the nature, there are over 80 miles of trails for cycling, hiking and horseback riding available.
Architecturally, the Ford Dining Hall can't help but catch your eye with its stone edifice and reflective pool out front. But both Mary Hall and the Ford Auditorium with its clock tower are equally appealing with their similar English Gothic styles. Judging by these buildings names, you may have been able to guess that Henry Ford is this school's largest benefactor.
Methodology
Although the U.S. Census Bureau defines what an urban area is, the organization does not provide a straightforward rural area definition. According to Census.gov, "'Rural' encompasses all population, housing, and territory not included within an urban area," and "Urbanized Areas" consist of 50,000 or more people. Therefore, for the sake of this list of colleges, we have defined a "rural area" as an area with a population under 50,000. Some of the colleges on this list are connected to small cities, towns or villages, but because of the area's low number of residents, we are considering it "rural."
Information was sourced from the National Center for Education Statistics' College Navigator Database , the United States Census Bureau , Wikipedia, the individual schools' websites and other "most beautiful college campuses" list articles.
The point system we used in our ranking works as follows:
Awards and Recognition: International accolade (2 points), national accolade (1 point), appearance on the National Register of Historic Places (1 point)
Other Recognition: Inclusion on other noteworthy "most beautiful college campuses" list articles (1 point per list)
Notable Features: Features, such as significant architecture, famous buildings, outdoor activity centers, farms, botanical gardens, arboretums, historical relevance, etc. (1 point each, or 2 points if there are several types of one feature, such as gardens)
Location: If the location is of certain significance, such as part of a national park or forest, on a hilltop or mountain, forest, etc. (1 point)
Student Enjoyment: Full-time student retention rates, as reported by College Navigator, above 75% (1 point) and 90% and above (2 points)
In cases where two or more schools have the same number of points, their rank order is determined by the schools' affordability. The schools with lower net costs, as reported by the College Navigator Database, received the better ranking (lower net cost = lower number).
Sources